I am BEYOND excited to bring to you this full NYC make-up post! I absolutely love NYC, I have been using their products for years and years. They definitely have affordable products that create quick and amazing make-up looks. In this post, I tried a few of their products and let's just say I'm in love!
Here is the full look and below is the breakdown of all of the products I used (plus what I thought of them and how they felt on my skin) PLUS different lip stains and lipstick colors that I had the pleasure of trying thanks to NYC!
You can find all of the products here:
Primer here. The primer had a watery consistency which dried quickly on my skin. Once it dried my skin felt light, almost as if I had not put anything on it.
Foundation (678 BarelyBeige) here. The foundation felt thick and heavy however, it did provide great coverage. The foundation provided such good coverage I did not feel the need to add concealer to the areas of my face that normally need it. I also did not need to add a lot of foundation because a little goes a long way. And remember to let the foundation dry before adding any powder or other makeup on top of it. All in all, I definitely love this foundation because it definitely provided ultimate coverage!
Podwer (741A) here. At first I thought the powder was going to be a translucent powder that basically just highlights your face. However, I was also pleasantly surprised because the powder also provided great coverage. However, I would not pair the foundation I used with the specific powder I used. This is because I have dry skin and although the foundation, because of its heaviness, hydrated my face and did not make it oily, when I added the powder my far did look quite dry. So, I would definitely pair the foundation I used with a different more nourishing powder or at least use very little powder.
Eyeliner (in jet black) here. Before applying this eyeliner I would apply an eyelid primer just to ensure the eyeliner did not smear (because it is not waterproof).
Mascara here. This mascara definitely elongated my eyelashes. I am used to have to use more than one mascara at once so that my eyelashes get the elongated effect I like. However, I just added a few layers (3 to be exact) of this mascara to my lashes and I loved how they looked!
Blush here. The blush is a bit on the softer side so I added quite a few brush strokes to make the color bolder.
Lipstick here (Cafe, Retro Red, Blossom) (as pictured below from left to right). I have been using NYC lipsticks for years now. They are super economical and the colors are beautiful! The cafe was subtle and shiny, while the retro red was bold and bright, and the blossom was a great fuscia color that made my face pop. My all time favorite was the retro red, I have been buying that color for years, every time I run out I buy one immediately!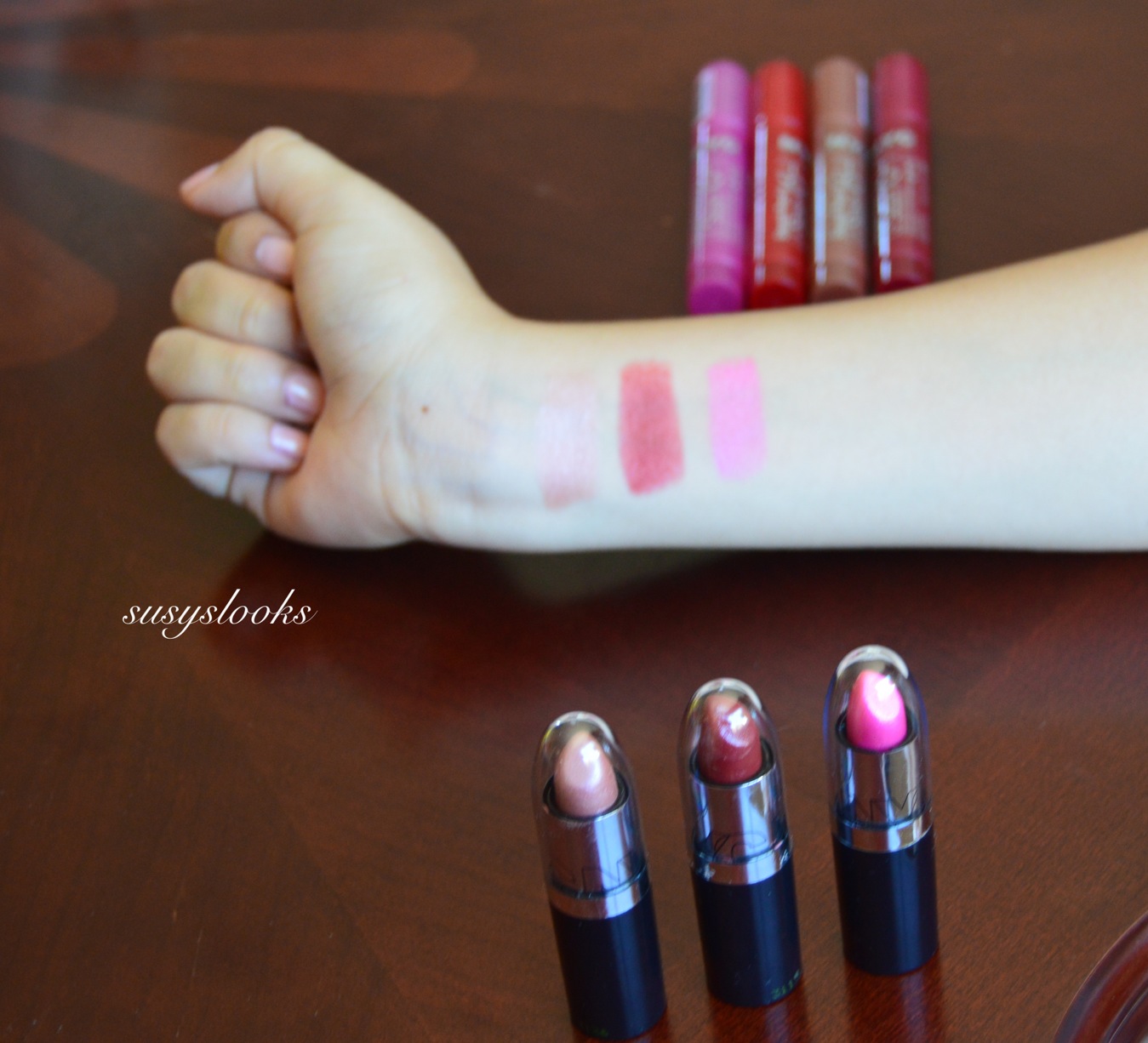 16 hour lip stain here (as pictured below). I LOVE LOVE LOVE these colors! These lip stains DEFINITELY LASTS FOR HOURS! I put a lip stain on in the morning before work, I worked, ate, went out with friends, ate some more AND my lip stain was still on! I would just reapply to the inside curves of your lips during the day but otherwise the lip stain color does remain vibrant throughout the day. ALSO, I would recommend wearing a chapstick under the lip stains and a lip gloss on top so that your lips feel nourished and the color looks glossy rather than dry.
(from left to right) (1) never ending nude, (2) rock on ruby, (3) berry long time, and (4) forever freesia