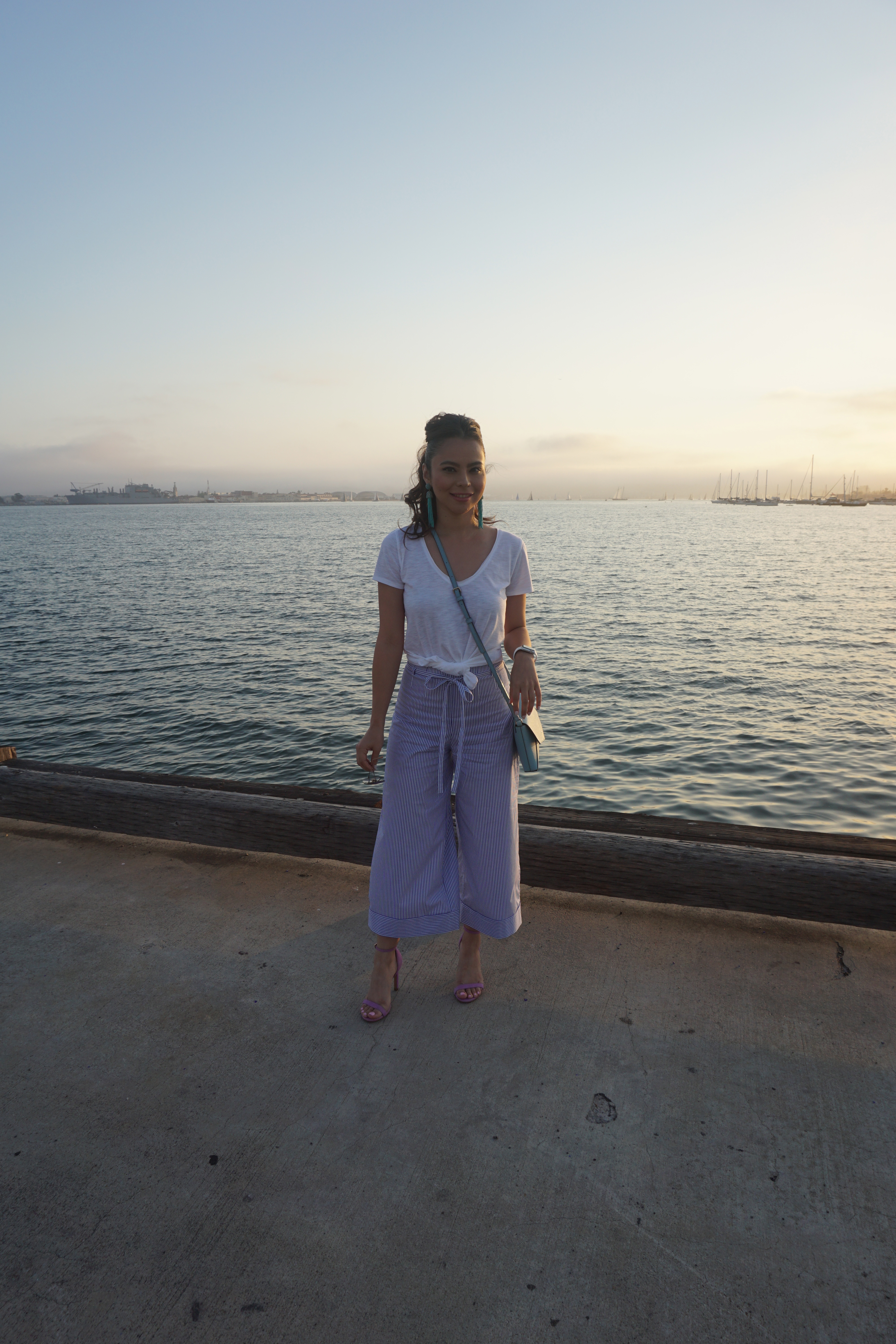 This blog post details one of the outfits I wore while on vacation in San Diego this past week-best trip ever! We took these pictures as the sun at the marina was setting and it couldn't have been more beautiful! I definitely think that travel wise San Diego is one of the easiest cities to get around in (I've had some pretty crazy experiences). This was actually my second time in San Diego and the first time I went I honestly did not have a good experience but what brought me back was actually Cafe Gratitude (an amazing vegan restaurant I'll talk all about in a separate post) and I ended up extending my stay this second time around because I had such a amazing time. I'll talk about the places where I ate and the locations I explored in a series of blog post in case it helps anyone else plan a trip out there. I definitely think it is a must see location in Southern California. Now on to some outfit details:
Outfit:
My sunglasses are Ray Bans. Similar ones can be found here.
My earrings are New York & Company and I actually got them on sale for $3. New York & Company doesn't have them anymore but they can be found here at Baublebar-it's the exact same earring. I am a huge statement earring fan and actually have a hard time staying away from them! I will even buy them over shoes, purses, clothes, etc.
My culotte pants from JCrew can be found here and here. They are $98 online but if you go to an outlet store you can find them for as low as $25. I actually have a really difficult time finding pants my size generally due to my short height (5′ 1") and it was honestly a miracle I found these ones in San Diego. I usually find pants and dresses my size in the petite section that don't need to be altered at Banana Republic and JCrew. Don't let people tell you short people can't wear culottes, if you love them then they're for you!
My white T-shirt is from Abercrombie and can be found here (as low as $10). I love to get T-shirts here because they are very sturdy and the material is really soft which is very important to me because I can't stand to wear itchy or tight materials.
My side purse is Kate Spade. A similar one can be found here and here. Who's guilty of wanting every Kate Spade purse ever made? ME!
My purple heels are Banana Republic and similar ones can be found here (for only $14) and here. I love to shop their shoes on sale because their size 6 fits like a 5/5.5 which is my size and which unfortunately not many stores carry.